Noteburner Audio Converter for Windows

NoteBurner Audio Converter for Windows is the best DRM M4P music converter on Windows platform. It introduces a smart virtual CD-RW burner, which simulates CD burning and CD ripping process. This M4P Converter is easy to convert iTunes DRM protected M4P, M4B, AA, and other DRM RA, OMA, WMA to any unprotected formats, such as plain MP3, AAC, WAV.

✔ Convert DRM M4P, M4A, M4B, WMA, AAC to MP3, AAC, OGG, WAV.

✔ Supports plain MP3, AAC, WMA to AAC, MP3, WAV, OGG conversion.

✔ Supports both 32-bit and 64-bit OS on Windows 10.

Compatible OS: Windows XP, Vista, 7, 8, 10 (32-bit & 64-bit).
Note: Noteburner Audio Converter for Windows is a home edition and it's only for personal use.
| | | |
| --- | --- | --- |
| Comparison Chart | Version: 2.3.5 | $34.95 |
Professional DRM Music Converter for Windows
Easily remove DRM protection from M4P, M4A, M4B, WMA music files!
Remove DRM from protected iTunes music files


It frees you from the hassles of copy protection without defeating the DRM copy-protection technology used by your audio files. It's able to remove music DRM protection from iTunes M4P, M4B, M4A files, protected WMA and convert them to the plain formats you need, and with the ID tags preserved.

It frees you to convert audio files from M4P, M4B, M4A, WMA to plain MP3, AAC, WAV. You can use iTunes to convert M4P to MP3, M4B to MP3 and audiobook to MP3, use Windows Media Player to convert DRM WMA to MP3, use RealPlayer to convert DRM RA to MP3 and use SonicStage to convert DRM OMA to MP3. Actually, NoteBurner Audio Converter supports MP3, M4A, FLAC, OGG and WAVE output audio formats.


Support all kinds of portable devices and cellphones


With Noteburner Audio Converter, you can easily convert all kinds of audio files for playback on iPod, Zune, PSP, Archos, Sony Walkman, Creative Zen, Sandisk sansa, iAudio & Cowon, and any other MP3/MP4 music players, as well as for cellphones such as Sony Erricssion, Nokia Nseries, BlackBerry, Samsung, LG, Motorola, and many other portable media players.

DRM Music Converter with Virtual CD-RW Technology
Convert iTunes protected music files with the specical Virtual CD-RW!
Support Virtual CD Burner Emulator


Noteburner Audio Converter is automated. The only thing you need to do is just adding M4P tracks to a playlist and set default CD burner to NoteBurner's virtual CD-RW and then burn. Virtual CD can emulate your computer RAM and hard disk as erasable CD-RW drive (Virtual CD-RW), the converting speed is at least 10 times faster than any other programs which use recording as one of the core converting tricks.

Support batch conversion of M4P audios


Noteburner Audio Converter easily converts DRM protected iTunes music or audio files such as M4P, M4B, M4A files to plain MP3, WMA or WAV formats in batch which will save you a lot of time.

Want to convert some audios that are not DRM protected for iPod, iPhone? Please just try Any Audio Converter which is perfect in audio and converting.

User Friendly & Fast M4P Audio Converter
With DRM Music Converter, you can freely enjoy all your DRM M4P, M4A music files!
Clear interface & simple options


Only a few clicks to finish DRM removal & M4P, M4A, WMA conversion and preview the whole process. You will get free Technical Support and lifetime free Upgrade let you feel reassured to use our software.

Fast speed & high quality


NoteBurner Audio Converter introduces a smart way of converting a wide range of audio file formats to MP3, WMA, AAC, OGG, FLAC and WAV. Utilizing virtual burning technology, NoteBurner is able to convert M4P to MP3, convert DRM protected WMA to MP3, and convert WMA to WAV. Its ability to convert DRM protected music files into regular MP3 files makes it a perfect solution for people who purchase their music online but have compatibility issues with their MP3 player.

Compatible with popular Windows OS


Supports the most popular Windows OS, like Windows 10, Windows 8, Windows 7, Windows Vista and Windows XP.

NoteBurner is magic but it doesn't perform any new tricks. The revolution is that NoteBurner is automated.Only with a few clicks, you can start process with a Virtual CD-RW, it burns any music files on the virtual CD, rips tracks on the virtual CD, encodes tracks onto any unprotected music files such as MP3, WAV, WMA. It can repeat this audio converting procedure until your whole music collection is done.
The main interface of Noteburner Audio Converter
Main settings button
You can set any output formats as you want.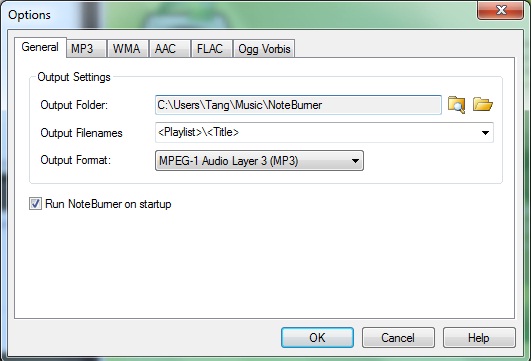 The output folder of Noteburner Audio Converter
The output folder contains all the songs tag.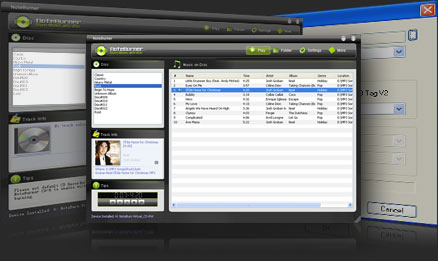 Convert iTunes M4P Songs to MP3 on Windows
Noteburner Audio Converter for Windows is the best DRM audio converter to remove the drm from iTunes songs and convert the iTunes songs to MP3, AAC, WMA etc. for copying to non-apple devices like MP3 players, Android smartphones, tabs, Windows Media Player. Just follow the steps to convert the iTunes songs to MP3 with Noteburner.
How to use Noteburner Audio Converter with iTunes 11, 10, 9 & 8
This document applies to iTunes 10 with the latest version of NoteBunrer and also iTunes 8 & 9, please pay attention to the different step of iTunes 10 and iTunes 8 & 9. And here bellow is the help of Notburner Audio Converter working with Apple iTunes.
Step1. Choose target format and output folder
1. On the main window of NoteBurner, click the Settings button, a dialogue box will pop-out.

2. Browse to choose a file folder for storing the converted songs.
3. Choose MP3 as output format.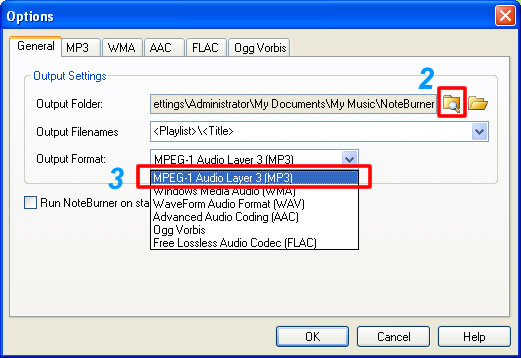 4. Go to MP3 tab and check the ID3Tag options.
5. Click the OK button to save the changes.
Step 2. Create playlist to contain songs for converting to MP3
You can burn the already existing iTunes playlist, or create a new playlist, and then add selected songs to the playlist for converting to MP3.
1. Choose the menu File > New Playlist, or click the addition sign to create a new playlist
2. Select songs or audiobooks in your iTunes library
3. Right-click on the selected files, choose "Add to playlist > (The playlist you create)"
Tips:
Since NoteBurner utilizes virtual CD burning mechanism to convert audio files, it's suggested that one playlist shall contain no more than 74 minutes music, that's approximately 650 MB files, the standard capacity of Compact Disc. If the playlist contains more than 74 minutes, the converted audio tracks might be divided into two or more virtual discs, depending on the number of the songs you add to the playlist.
Step 3. Choose NoteBurner as CD burner, and then burn the playlist
1. For iTunes 10
In iTunes 10, please right click the playlist that you want to burn, then please select the iteam"Burn Playlist to Disc"
2. For iTunes 8 & 9

In iTunes 8 & 9, before the burning starts, you will be prompted to choose CD burner. You should:
•Choose NoteBurner Virtual_CD_RW as the CD burner
•Select Audio CD as Disc Format
•Check the "Include CD Text" option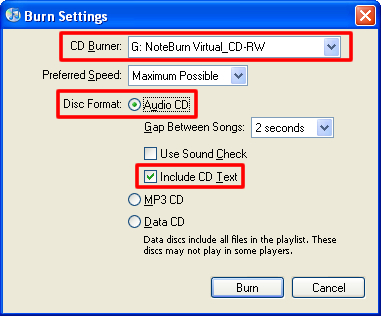 Step 4. Get the MP3 files
The converted playlist and songs will show up on the main window of NoteBurner.
1. You can double-click any song to preview the music, or click the Play button to play selected song
2. Click the Folder button to open the output folder, where you will find the converted MP3 files


Q1. How to register Noteburner M4P Converter with registration code?
A: Install the trial version of Noteburner Audio Converter for Windows on your PC. Then launch Noteburner, click More > Enter Licence Code", there will be a registration popup dialog. You may input the User ID and Registration Key manually. Please do not add blank at the beginning or the end of the word. You can also copy and paste the User ID and Register Key into the registration popup dialog.
Q2. What can I do if the program shows Registration Code Invalid?
A: First you may check if you have downloaded the incorrect program. And please also check whether there is any special character in the registration name. If so, please contact us via support@noteburner.com.
Q3. Why I still stay in trial mode when relaunching the program after successful registration?
A: This problem may be caused by the OS of your computer. To resolve the problem, you need check what the OS of your computer is.
If you are running on Windows 7, please:
1. Close and quit the program, and then right click at the icon of NoteBurner.
2. Choose "Run as Administrator" to launch the program.
3. Register NoteBurner program with the code you received. Then you will stay in full version forever.
If you are running on Windows 8, please:
1. Close and quit the program, and then reboot the computer.
2. Enter the safe mode of the system.
3. Launch NoteBurner program under safe mode and register it with the code you received before.
4. Reboot the compter again and enter the usual mode, then the program will stay in full version.
System Requirements
Supported OS
Windows XP, Vista, 7, 8, 10 (32-bit & 64-bit)
Processor
1G Hz processor, or above
Monitor
Monitor with 1024x768 pixels or higher resolution
RAM
512MB or higher of RAM
Supported Input Formats
Audio Formats
M4P, M4A, M4B, WMA, AAC (DRM protected)
Supported Output Formats
Audio Formats
MP3, OGG, WAV, AAC, WMA