What's New in iPhone 6S? How to Sell Your 'Old' iPhone with Best Price?
Just as we expected, Apple unveiled the iPhone 6s and iPhone 6s Plus at September 9th Event, that means some Apple fans may be looking to sell their current iPhone.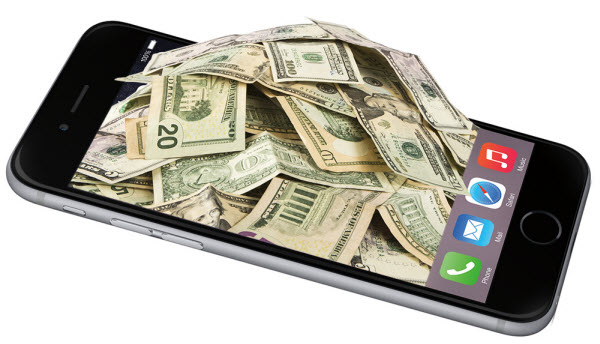 Part One: What do you need to know about the new iPhone 6s/6s Plus?
The newly released iPhone 6S and 6S Plus looks identical to last year's iPhone 6 and 6 Plus. What are the main features of the new iPhones? What you should know about the new iPhones?
• 3D Touch: It is the biggest, and most noticeable change to this year's set of phones. 3D Touch is a pressure-sensitive display technology that lets you push in to do new things on your phone.
• Rose Gold Color: A Rose Gold color option for the iPhone 6S and iPhone 6S Plus joins the original Gold, Silver, and Space Gray color options.
• A9 Processor: The iPhone 6s and 6s Plus are powered by a next-generation A9 chip that offers faster performance while also being more energy efficient, cutting down on overall power usage.
• Camera Upgrades: There's a 12-megapixels iSight camera in the iPhone 6s and 6s Plus, a significant upgrade from the 8-megapixel camera in the iPhone 6 and 6 Plus. 
• Operating System: The iPhone 6s and the iPhone 6s Plus ship with iOS 9, Apple's latest operating system.
• Improved Touch ID: Second-generation Touch ID technology is used in the new iPhones, making fingerprint recognition up to twice as fast.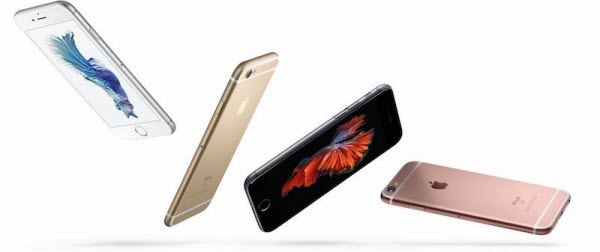 Part Two: How to sell your old iPhone for the best possible price?
It's believed that many Apple fans would like to buy the new iPhone. Then, how to sell your old iPhone for purchasing your new iPhone? Getting the best price for your old iPhone 6, iPhone 6 Plus, iPhone 5s or other current smartphone is a top priority. The whole point of selling your old iPhone is to get money to help you pay for a new iPhone 6S or 6S Plus. Naturally, you would rather sell your device to the place that will pay the most for it. In this case, you should always compare pricing among some trade-in websites, such as Amazon, Gazelle and Nextworth.
Gazelle
Right now, Gazelle is offering a Best Price Guarantee on iPhone 6, 6 Plus and 5s trade-ins until September 9th, promising to beat the trade-in values offered by Apple and carriers AT&T, Verizon, Sprint and T-Mobile.
Gazelle's website works seamlessly and is simple to use. To sell your iPhone, what you should do is to tell them what you have, and they'll tell you what they'll give you for it. If you accept the offer, 30 days is permitted to send in your old phone. When Gazelle receives your iPhone, Gazelle they will check it. If there's anything different from what you have told before, they'll let you know and give you an updated offer. If you decline, they'll ship it right back to you free of charge. If everything looks good, or if you accept an updated offer, they'll pay you by check, Amazon, or PayPal. With the 30 days grace period, Gazelle is a good way to lock in a price before the market is glutted.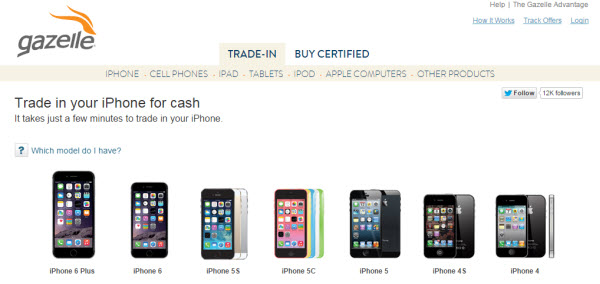 NextWorth
One other online iPhone trade-in service that you can check out is NextWorth. It also offers a similar trade-in service as Gazzelle for your old iPhone 4 through iPhone 6 plus. NextWorth claims that they would offer higher prices on average for the iPhone 6 and iPhone 6 Plus than Gazelle. NextWorth quote is valid for 30 days after it is issued. It's quick and easy to trade-in online with its price calculator.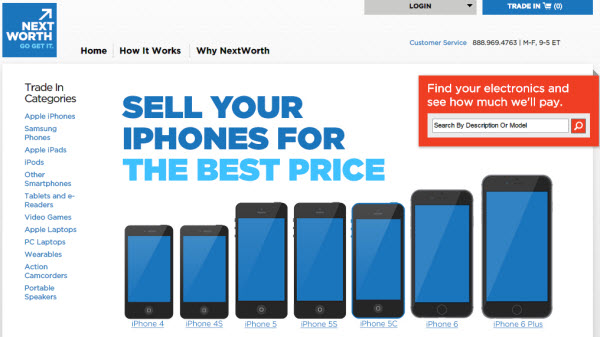 Amazon
Amazon also runs a trade-in store where you can sell your old iPhone. You can search for the iPhone model that you want to trade in and receive a price quote. But, their system is, frankly, bizarre. It presents a disjointed list of options instead of letting you easily choose a model, capacity, and other details. If what you have isn't there, there doesn't seem to be any way to add it. After choosing the iPhone model you want to trade in, you should answer a few questions about the condition of the smartphone and enter your shipping address.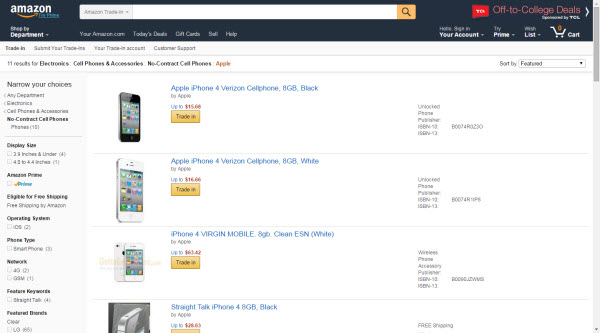 Part Three: How to keep iTunes rentals forever on your iPhone?
As one of the largest media stores in the world, iTunes offers a collection of music, movies, TV shows for downloading. For Apple fans, they are willing to purchase or rent videos on iTunes for enjoying on their iPhone. When it comes to iTunes rentals, the time limitation and other restrictions would always annoy you.
There are two time limits you need to be aware of about iTunes rentals. The first starts once you play the rented movie for the first time. Once hitting play, you only have 24 hours to finish watching the movie. If you don't finish watching it in that time, the movie will expire and be unplayable. The second time limit is that you just have 30 days to start watching a movie after you rent it. If you don't watch the movie in that 30-day window, your rental will expire.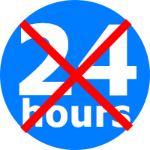 Then, is there any solution to unlock the time limitation of iTunes rentals, so that you can keep iTunes rentals forever on your iPhone? NoteBurner M4V Converter Plus (For Mac & For Windows) comes to rescue. NoteBurner M4V Converter Plus is an excellent iTunes DRM removal software which helps you remove DRM protection from both iTunes rentals and purchases M4V. With NoteBurner M4V Converter Plus, you can now keep your iTunes rentals forever on your new iPhones.
Download DRM removal software now!
NoteBurner M4V Converter Plus for Mac:

NoteBurner M4V Converter Plus for Windows: