Surface 3 vs. Surface Pro 3: Which one should you buy?
"I'm having a bit of a hard time deciding between the Surface 3 and Surface Pro 3. Which one should I buy and waht I should take into consideration when buying it?"
Microsoft just introduced the new Surface 3, with the release of the Surface 3 many people are going to keep asking the differences between Surface 3 and Surface Pro 3. These two devices stand out in the field of combining the elements of tablets and laptops. But the Surface Pro 3 charges much higher that the Microsoft now releases Surface 3 to follow the mainstream.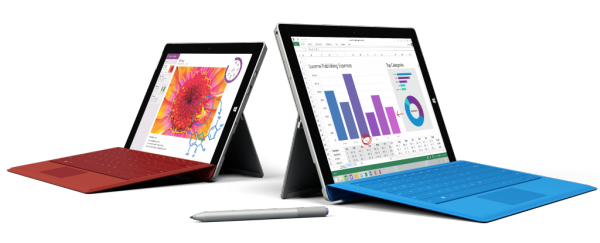 So what are the real differences between the new Surface 3 and Surface Pro 3? And which model should you buy? Let's explore together the major differences between Surface 3 and Surface Pro 3.
Difference on Display
The touchscreen has a 1,920x1,280 native resolution, which is more than enough for a 10.8-inch display of Surface 3. While the 12.5-inch Pro 3 has a 2,160x1,440 resolution which performance better than Surface 3. What is worth mentioning is that both screens of them have a 3:2 aspect ratio, which makes them feel more like writing on a pad of paper when held in portrait mode.
Difference on Price
Compared with Surface Pro 3 which starts at $799 / £670 / AU$979, Surface 3 cuts its price and starts at $499, £420 or AU$699. Unlike the Surface Pro 3, the Surface 3 does not include the Surface Pen, which means you need cost another $50 to buy a Surface 3 pen. Meanwhile, in order to make the Surface 3 and Surface Pro 3 useful, you'll need to purchase the Type Cover keyboard that cost $129.99.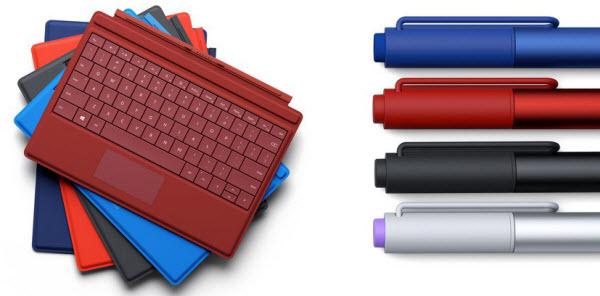 Differnce on Tech Specs
When it comes to tech specs, there is no doubt that Surface Pro 3 always comes at the top. The Surface Pro 3 wins in its processor, the amount of RAM and storage capacity. Surface Pro 3 runs Intel Core i3/i5/i7, which are specifically designed to heavy-duty tasks, while Surface 3 has a low-power Atom processor design for light-weight tasks. It doesn't mean the Surface 3 is not worth choosing. The Surface 3 can easily handle all your everyday tasks, such as web browsing using Google Chrome, playing music with iTunes, watching movies with media player, working with Office, email, and etc. Meanwhile, unlike the previous non-Pro Surface tablets, the Surface 3 runs standard Windows 8, it's ready to upgrade to Windows 10 when that operating system is available, which make it more competitive with Surface Pro 3 running Windows 8.1.  
Conclusion: Should you buy a Surface 3 or a Surface Pro 3?
Simply put, it depends on what you want to do with the device. If you're a regular user that only needs web browsing, work with Office, watch movies and listen to music, then you can consider buying a Surface 3, which is somehow cheaper than Surface Pro 3 and it can simply satisfy all your needs. If you need to work on more demanding applications, such as image and video editing, encoding, gaming, and other power-hungry tasks, you should consider one of the high-end models of Surface Pro 3.
Extending Reading: Enjoy iTunes Movies on Surface 3/Surface Pro 3?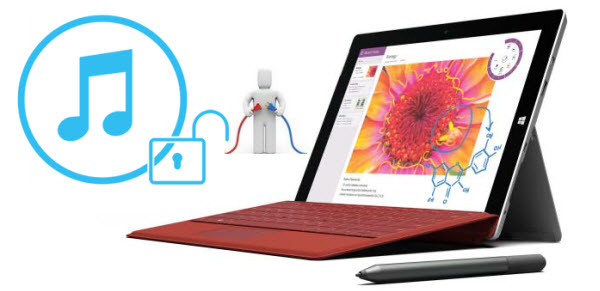 No matter which tablet you have bought, the one that can satisfy all your needs and at the same time is affordable to you is the best one. Once you have bought the tablet, it is inevitable for you to play and enjoy videos on it. The Surface tablet can offer you a great experience while watching videos for its big and high-resolution display. It supports many popular ordinary video formats, but iTunes M4V videos are excluded. To play iTunes M4V Videos on your new-buying Surface tablet, you can refer to NoteBurner iTunes to Surface Converter for help.
General speaking, movies and TV shows that you purchased and rented from iTunes Store are limited to play in Appple ecosystem and rentals need to play in 24 hours once you started to watch it. By removing DRM protection from the iTunes movies, you will be free from all the restriction and able to keep the movie as long as you want.
NoteBurner iTunes to Surface Converter (For Mac & For Windows) comes at right time. With it, you can crack DRM from iTunes videos and convert iTunes M4V movies to other popluar regular formats, such as MP4, MOV, AVI, ect. Without worry the quality of the converted videos, NoteBurner can help you convert iTunes videos with all subtitles, 5.1 audio track and lossless quality kept.
NEWS! NoteBurner M4V Converter Plus perfectly supports iTunes 12.2 & Mac OS X Yosemite!
What's next? Download NoteBurner iTunes to Surface Converter now!
NoteBurner M4V Converter Plus for Mac:

NoteBurner M4V Converter Plus for Windows: