NoteBurner Audiobook Converter FAQ
Q1. How can I set the output format in the Audiobook Converter?
Please go to Menu > Preferences > Advance > Output File format and choose Custom. In the format section, you can choose to convert your audiobook to MP3, AAC(m4a), AAC(m4b), WAV format. Besides, in the same window, you can even custom your output file with setting like Bitrate, Bitrate Type, Sameple Rate, Channles, etc.
Q2. Can I keep the chapter info in the converted file?
The latest version of iTunes DRM Audio Converter for Mac enables user to retain chapter info when convert audiobook to AAC. But you need to do some setting to make it happen.
To learn more, please refer to "How to keep the chapter info in the converted file?"
Q3. There is some noise in my output audio file? How can I fix it?
Before conversion, please go to the program terminal by clicking to Finder > Applications > Utilities > Terminal, then input the following command code to run start the conversion "defaults write com.macsome.AudiobookConverterConvertSpeed -int 1".
If problem persists, please tell us the file name, the screenshot of the program setting and the program log file for analysis.
Q4. I can't convert a protected audiobook file which is shown with a lock on it.
Please note that Note Burner Audiobook Converter supports converting drm audiobook from iTunes and Audible, but currently doesn't support converting protected audiobook from Amazon.
Q5. How to convert mp3 format audiobook file?
Please first import file to iTunes music directory, then right click on the file, click to Get Info > Options > Media Kind > Audiobook.
When the file show up in Books directory, you can relaunch NoteBurner Audiobook Converter to convert the file.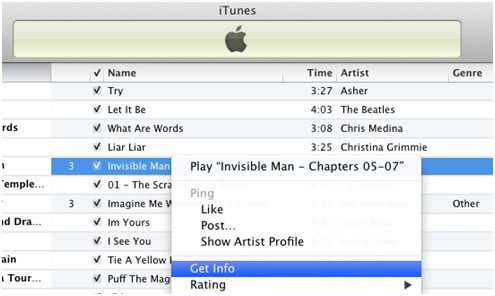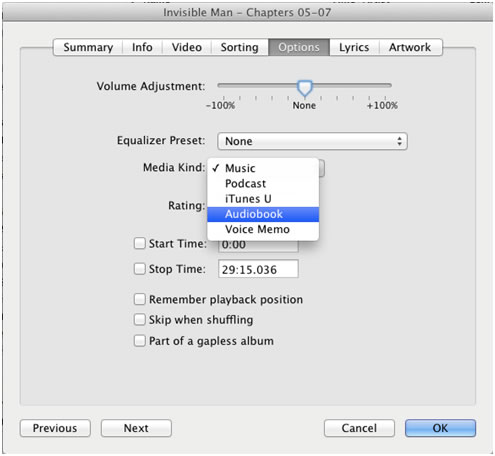 Q6. Can Audiobook Converter split my audiobook? How?
Yes. After conversion you can click on the Split button to split file according to your needs.
You can choose to split file either by file duration or by chapters.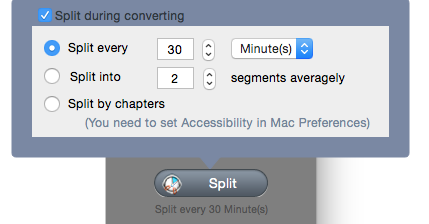 Q7. Audiobook Converter crash when conert a certain audiobook file. Is there a fix?
Please try to restart computer and go to safe mode to convert file with Audiobook Converter. If your file is stored in external storage device, please copy the file to local disk in your computer then try again. If problem persists, please provide us with the info below:
(1)What's your Mac OS version and the iTunes version?
(2)What is the name of the audiobook file? Can it play normall in iTunes?
(3)Please send us the log files. If program crash, please also send us the crash log file.
How to find the program log file:
Please press "option" and at the same time launch NotBurner Audiobook Converter, then there will generate a Audiobook Converter.log on your desk screen. Another log file will locate in /Users/username/Library/Application Support/NoteBurner/itunes.log
Please send us both log files above, we will submit to our R&D department and give feedback ASAP.